AUTOMATIC COLOR CHANGING WITH EUPHONY: This LED ball light of the wind chimes is possessed of seven-color gradient that change automatically during the night, which no doubt create an excellent lighting effect in your house. The collision of crystal ball and metal tubes drove by the wind can make a clear and pleasant sound.

USER-FRIENDLY DESIGN: The wind chime is powered by solar energy along with automatic induction function on account of a built-in sensitive light sensor. The light will be automatically turned off during the day for battery charging while it will light up automatically at night, in this way, it is eco-friendly.
WATERPROOF, MOISTURE-PROOF & FADELESS: This solar wind chimes is made from high-quality material- ABS plastic, which is proved to be tough, strong and environmentally-friendly. Therefore, it doesn't easily deform or fade. What's more, it is rain-proof and moisture-proof, so don't worry about hanging it outside.
WIDE APPLICATION & PERFECT GIFT: It comes with S-type hook, so it is easy to hang on the tree, backyard, front porch, patio, windows, fences and lawn. You can also use it as a path light to illuminate the road for you on your way home. Besides, it can be regarded as a perfect gift to give it to your family and friends on various occasions.
100% CUSTOMER SATISFACTION - We do value our customers and hope you will enjoy a pleasant shopping experience. It comes with one-year warranty guarantee and friendly customer service. If you are not totally satisfied with our products, you feel free to contact us for a refund or other resolutions.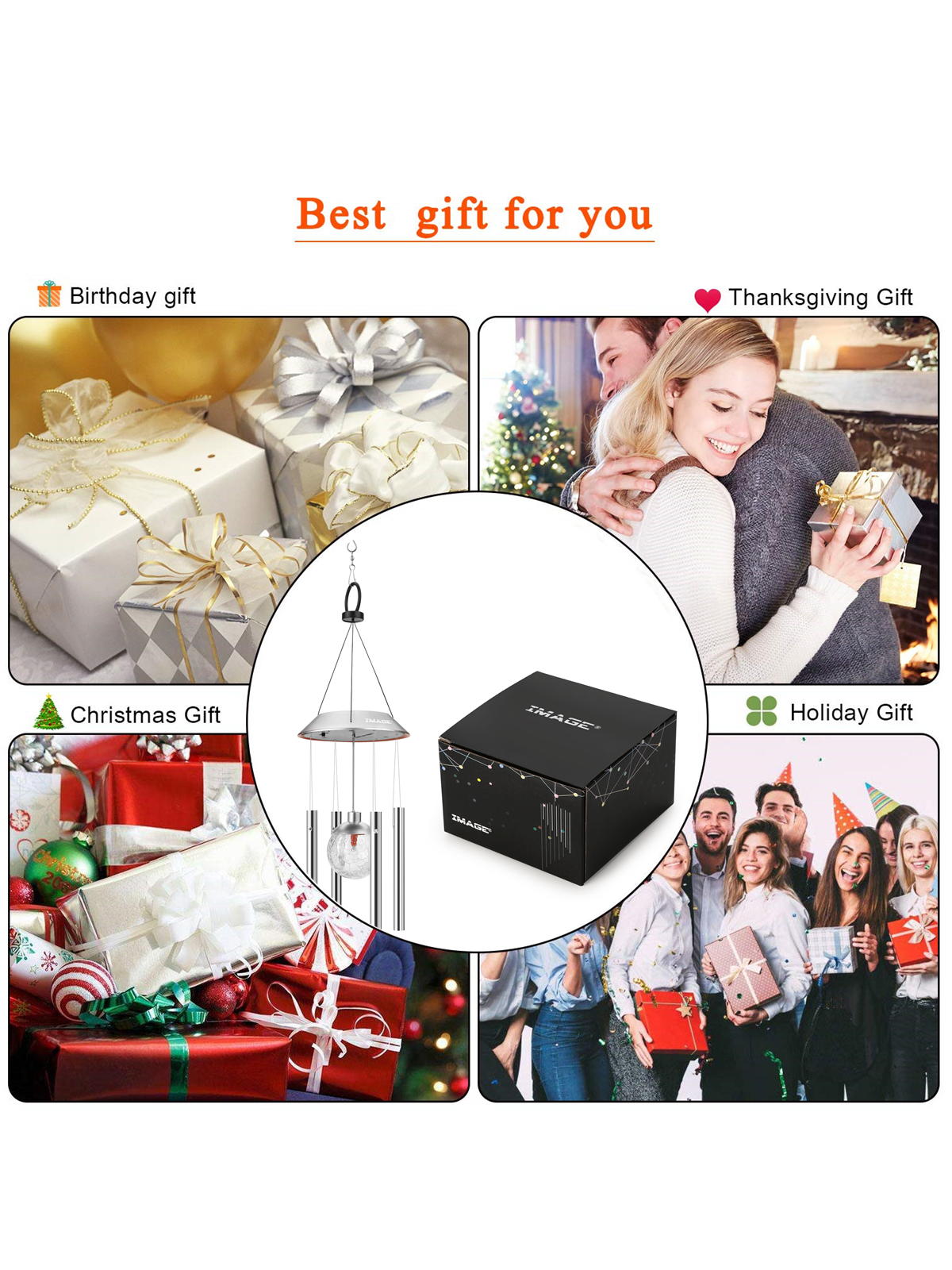 It is great for being used as a gift to your family and friends
You will never regret your choice!
It is perfect for decoration in garden,yard,patio,bedroom or parties!

Best gift! Birthday Gift, Mother's Day Gift, Father's Day Gift, Thanksgiving Gift, Christmas Gift, Holiday Gift...

For parents, for love, for the child, for a friend, for colleagues