This light pad is very light and thin, battery-powered, can be carried in a bag, and it is very convenient to bring sketches or classes. And eye protection design, bright and not glaring! It is very safe, very suitable for children! Can be used as a gift for children!
This artcraft tracing light box is a sleek light-up pad, the light from the pad through the paper clearly illuminates the images, which make tracing images become easy. It is perfect for multiple domains, such as 2D Animation, Calligraphy, Embossing, Scrapbooking, Tattoo Transferring, Sketching and Drawing, Sewing projects, Stained Glass, Quilting etc.
Of course, adults can also use it!
Download and print more tracing sheets!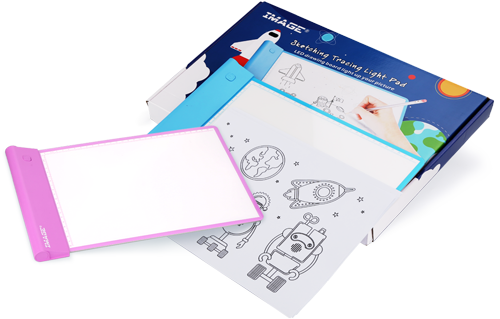 Features:
Ultra-thin & lightweight: The light pad is designed to be ultra-thin 5mm, very lightweight and easy to carry, best for children!
Traceable Sheets: Come with 10 traceable images of different animals and plants, mix and match or trace single pages to create different story scenes that Inspire the inspiration and creativity of little artists.
Adjustable brightness: Adjust the brightness of light pad according to the environment. Protect the eyes more comprehensively. Recommended for ages 6 and up.
GIFT FOR BOYS & GIRLS: The evenly illuminated surface makes the tracing lines more visible, even in low-lighted camping tents or in nests. Also, it can make home's toys shine, little artists will find more ways to use them. A best birthday or holiday gift for girls or boys.
IMAGE LIGHT UP TRACING PAD: 1 Tracing Pad with Brightness Control, 10 Tracing Sheets (4 AA Batteries Required. Not included). We provide a one-year warranty.
Specification:
Material: Mitsubishi Acrylic Panel
Active Area: 210*297mm/8.26*11.7inch
Thickness: 5mm
Color Temperature: 6000k white
Battery required: AA * 4
Working Voltage: 6V
Rate Power: 2.5W